Polperro has it all. A beautiful harbour, the sounds and smells of a working village and stunning views around every tight corner. It also has the prices to match! If you still want to visit a beautiful Cornish village and keep your wallet intact here are 3 stunning Cornish village alternatives to Polperro.
Use the links below to jump to each village or read from the top.
Charlestown

Grid Ref SX037516
Postcode District PL25
A Brief History Of Charlestown

Charlestown prospered from humble beginnings in 1790 when it was just a few cottages and three cellars used to process the daily catches of pilchards.
By 1799 a harbour had been established. Between 1810 and 1813 Charlestown harbour was used to export 40,000 tonnes of copper ore from nearby Crinnis Hill Mine. Once the resources at Crinnis Hill and surrounding mines had been depleted, Charlestown was the main port of choice for exporting the region's famous china clay despite competition from a new port in Pentewan that opened in 1826 and also nearby Par.
China clay brought prosperity to Charlestown for almost a century, until the First World War. A 1911 census shows the village had swelled from 9 fisherman and their families in 1790 to a population of 3,184.
The pretty harbour was designed originally for small sailing vessels but was widened in 1971 to accommodate ships up to 600 tonnes at high tide. Despite the modernisation, commercial exports of china clay outgrew the small harbour and the last commercial export of china clay from Charlestown was in 2000. Exporters now use Par and the deepwater port of Fowey which has easier access for larger ships.
The 23-acre harbour itself is now privately owned having been purchased in 2015 by Square Sail Ventures, a specialist marine filming company. Ownership transferred to Sir Tim Smit, co-founder of the nearby Eden Project and founder of the world-famous Lost Gardens Of Heligan, in 2018 for an undisclosed sum. Since 2016 he has also owned the popular Shipwreck And Heritage Centre in town.
Where Have You Seen Charlestown Before?

Charlestown Harbour is as popular with filmmakers as it now is with the general public that finds it. 2008 saw part of the Tim Burton re-imagining of Alice In Wonderland filming around the harbour. Much of the Doctor Who episode "Curse Of The Balck Spot" was filmed on location here in 2011.
In 2012 the town was used as a location for the fantasy adventure film "The Adventurer: The Curse Of The Midas Box" starring Michael Sheen, Sam Neill and Lena Headey.
Charlestown is probably the most famous for the popular BBC series "Poldark" that has used the harbour and historic ships as a location throughout its five series run.
What is There In Charlestown Today?

Visitors today come to Charlestown for the Shipwreck And Heritage Centre as well as some fantastic dining options that have opened up. In warmer summer months the quayside is full of tables ready to welcome visitors to this lovely little port.
What Makes Charlestown Great?

The choice of dining options is fantastic for the moderate size of the village. The quayside is very picturesque and there is a small beach just beyond the harbour if you want to enjoy a day at the beach here.
Parking is close to all the amenities and reasonably priced. It's very well signposted from St Austell and Par. A much bigger beach at Carlyon Bay, is a few minutes drive away or 30 minutes on the coastal path if you would like to explore a little more of the area.
Charlestown is as popular today as it was in Georgian times thanks to reinvention and investment in the local infrastructure. It's one of the more accessible villages on the south coast of Cornwall and very easy to access and get around. You can spend a restful morning on the beach before exploring the local shops and visiting the Shipwreck And Heritage Centre. Finish a perfect day out here with a wonderful meal in one of the restaurants that have opened up while admiring the sunset.
Fowey
OS Grid Reference SX126516
Postcode District PL23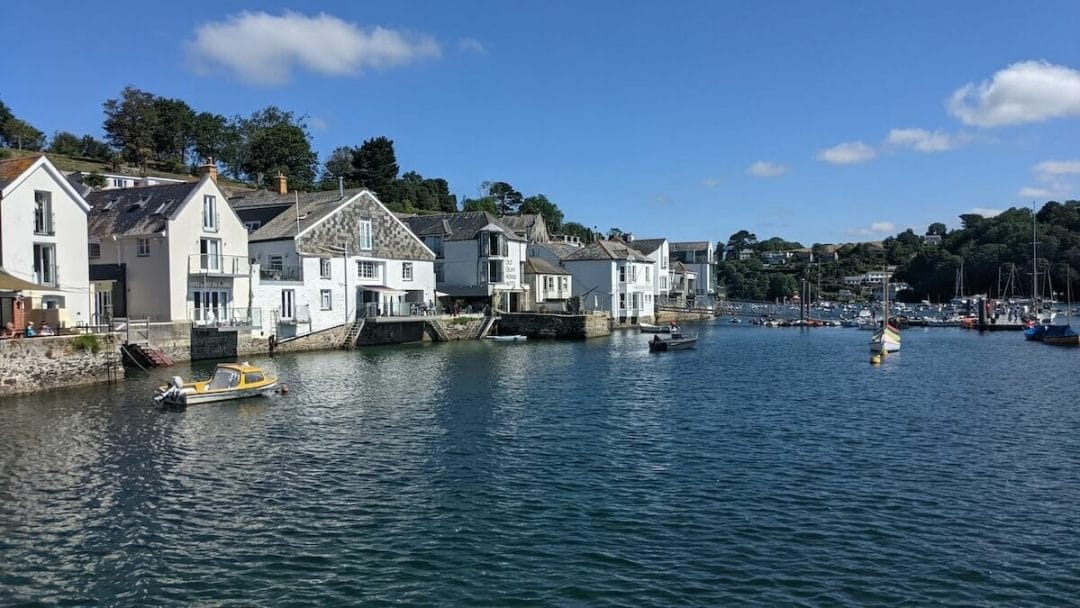 A Brief History Of Fowey

There has been a settlement in Fowey since well before the Norman invasion. Records show the local church was initially built sometime in the 7th Century.
As the deepest water port west of Plymouth, Fowey has been an important maritime village for centuries. The large natural harbour is navigable for its last 7 miles. China clay is still exported from here after being brought down by railway.
Fowey's stunning views have attracted creative types for many years. Notable authors and painters have called Fowey home including Sir Arthur Quiller-Couch, Kenneth Grahame, Daphne Du Maurier, Leo Walmsley and Fred Yates.
Fowey's picturesque views are still popular with celebrities of today. At the time of writing Dawn French, Gloria Hunniford, Janet Ellis (remember her from Blue Peter) as well as Richard Madeley and Judy Finnegan have residences around town.
Although Fowey is still tied to the mining industry the impressive harbour is also popular today with yachtsmen and sailors as well as tourism which is becoming increasingly important to the local economy.
What About Fowey Today?

Fowey is very picturesque but it's also very hilly. Charlestown is more accessible if you have mobility problems.
You will need to zig-zag your way down quaint alleyways and narrow streets until you reach the harbour which opens out in front of you like a watercolour painting. The sight is breathtaking and it's easy to see why so many prominent figures from the literary and creative worlds were and are still drawn to this wonderful area.
The main harbour area has a small passenger ferry to Polruan, my next recommendation. If you want to drive you can either drive up and around or catch the car ferry across to Bodinnick for a shorter drive.
The harbour is home to most of the restaurants in the town that has spread itself along this side of the river. One thing you will notice lacking is a beach but Readymoney Cove nearby has a small beach popular with families. It's easily accessible in 10 minutes from the nearby car park.
Follow the pathway across the beach and up the other side to get to the 16th Century ruins of St Catherines Castle. After defending the port for centuries it was finally decommissioned around 1945. Today it's managed by English Heritage.
As well as the castle there is a small aquarium and museum, several shops and plenty of restaurants. Slightly further afield you have Eden Project and Lost Gardens Of Heligan plus some smaller gardens that are open to the public.
Many people come to Fowey to admire the views across the harbour. On a sunny day it's not hard to see why. Even when its slightly overcast the view is still breathtaking.
Polruan
OS Grid Reference SX126508
Postcode District PL23
A Brief History Of Polruan

The small fishing village of Polruan is on the opposite bank of the Fowey River to Fowey itself. The clifftop car park must easily have some of the most breathtaking views of any in Cornwall. It is also remarkably cheap!
Boatbuilding also has a long history in the village and the main harbour sits adjacent to a small working shipyard so you could watch repairs going on over a beverage.
The ruins of St Saviours Church on the clifftop just above the main car park has acted as a beacon for sailors since the 8th Century. It's still a prominent and important part of the village today.
Polruan also has a Blockhouse that was used to help protect the port and that of Fowey with a heavy chain that rested on the seabed which could be raised in times of conflict to stop anyone entering or exiting the harbour.
Polruan Today

This tiny charming village will let you get away from it all but you have some great links to the local area so you can easily use Polruan as a base for the day.
There are small passenger boats to Fowey across the river and also another popular Cornish village a few miles down the coast, Mevagissey.
The area is definitely the most residential of all these villages but great transport links mean you won't feel too far out of the way. Aside from a small pub, shop and bakery people come to Polruan for the quiet way of life that has existed here for centuries.
The views from the Blockhouse at the harbour entrance are simply stunning on any given day and on warmer days the welcome breeze will help cool you down.
Conclusion

What is it the people come to Polperro for? It's the picture-postcard idyl and there are numerous villages dotted all along the coast that offer equally stunning views.
These are just 3 examples but you can easily find more. On your next visit to Cornwall make time to not plan to do what everyone else does but get in your car and drive somewhere deliberately a little out the way, off the beaten track. You will surprise yourself with what you come across.
Copyright secured by Digiprove © 2021