While it's not maybe as well known as its southern cousin, El Calafate, El Chalten is nirvana for hikers and climbers worldwide. A relatively new resort, built in 1985 to help settle a land dispute with neighbouring Chile, El Chalten today exists solely because of the tourism in the area. The land and weather here on the Patagonian Steppe are so inhospitable the resort wouldn't exist at all were it not for the fearless climbers that began camping in the valley at the base of the iconic Mount Fitzroy and Cerro Torre.
The soil offers little nutrition to any plants that lay seed and the fabled winds of the Patagonian Steppe roar of Lago Viedma with a ferocity that at times can blow an adult off their feet while they wait for the equally famous cloud cover to disperse from the mountain peaks that everybody comes to see.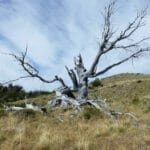 Nestled in a valley that is partly sheltered from the gales by Mount Fitzroy to the west and the hilltop perch of Condor Lookout (Mirador Condor in Spanish), El Chalten is a sleepy backpacker town where people come to experience nature and get away from the hustle and bustle of daily life.
Things in El Chalten go at their own pace. If you want a buzzing nightlife to go with your idyllic landscapes you had better look elsewhere than here. Amenities in town are as sparse as the surrounding landscape. There are now 3 grocery stores to pick up some essentials but it is expensive because of the cost of getting it out here, a few restaurants to serve the tourists that visit in the summer months and a fantastic craft beer pub, the Cervicaria which is pretty much the focal point and meeting place in town.
The weather in El Chalten is as unpredictable as knowing the next set of lottery numbers and frequently you will get all 4 seasons in an afternoon. In 90 minutes sitting at the top of Mirador Condor, an easy 60 minute trek from town, while waiting for the cloud to release its grip on Mount Fitzroy, I experienced sub zero temperatures thanks to the howling gales, a thunderstorm worthy of an impending apocalypse that lasted for 20 minutes and finally baking temperatures and a zen like calm once the weather system had moved on from the area and the mountain peak was finally exposed.
Take layers, plenty of them. There is a good chance while you're in town that you are going to need one or all of them during your stay. Arriving in town, crossing the fast flowing freezing glacial run off of the Rio de las Vueltas, you may think that the resort is shut thanks to all the semi finished buildings and lack of amenities but the sparseness of it also appeals to its charm.
You don't spend the time and effort getting here without really knowing what is here when you arrive. El Chalten is a dedicated spot from which to explore the abundant trails that have sprung up in the area once civilisation moved in. It was from this sleepy little hamlet, back then just a camp ground by the river, that the expeditions that finally conquered Mount Fitzroy and, much later, the vertical spine of Cerro Torre started and finished while waiting out the worst of the weather.
Getting To El Chalten
By Air – The nearest airport is in El Calafate, 4 hours to the south. The newly merged Latam Airline (between Lan and Taca Airways) as well as national carrier, Aerolineas Argentinas, operate several schedules daily from the capital Buenos Aires and also from Ushuaia to the south. If you are arriving on an international flight be aware that you will need to change airports in Buenos Aires that will take a minimum of an hour possibly longer. You may not be able to get a connecting flight on the day you land.
By Road – There are a couple of buses that make the run twice daily in each direction from El Calafate. Bus travel in South America is a way of life despite the sometimes huge distances involved. It's a great way of seeing the local countryside. On this trip you would also see a tiny portion of the vast Patagonian Steppe and travel on Ruta Quarenta, the famous Route 40 that runs the spine of the Americas broken only by the Panama Canal and a couple of current no go areas in Central America. You can also take the longer overland route from Bariloche, the wine region in the north of Argentina in 30 hours stopping off at El Bolson, Perito Moreno and Los Antiguos.
Under Your Own Steam – If you're feeling particularly adventurous or foolhardy depending on the weather conditions, it is actually possible to cycle the 222km (138m) to and from El Calafate. Renting bikes is a very cheap way of getting around and the ride will take 2 full days. While there is no official stop between the towns there is a well known abandoned house roughly half way that is popular with those in the cycling community. Local law enforcement frown on the practice though and routinely show up to evict any temporary residents. The trick is to arrive later in the day, preferably past 8pm.
El Chalten – What Is There To Do?
Aside from walking and hiking there is precious little but that is the point to almost everyone that comes here. The national park information centre just over the bridge as you enter town can help you out with a lot of information for the area. The notable routes are:
Mirador Condor / Mirador Eagle – A small 2 hour round trip to the easiest lookout points in town. Just make sure the weather plays ball with your plans. When I stayed, afternoons were the best chance of the weather clearing so you could get that view.
Laguna de los Tres – The main trail that snakes its way through some stunning vistas surrounding Mount Fitzroy is a full day affair. Roughly 8 hours return. Pack layers, you're probably going to need them at some point. And most definitely a camera.
Laguna Torre – Easier than Laguna de los Tres, this 6 hour return trail will take you to a stunning mirador at the base of Cerro Torre. You can combine this route and Laguna de los Tres to create a circle back to town but it's a very long day.
Visit Patagonia's Largest Glacier – While Perito Moreno may be more popular, the neighbouring Viedma Glacier is actually the largest in the Southern Patagonian Ice Field clocking in at 977 km² (Perito Moreno is just 250 km²). From El Chalten you can take one of several tour options that can include a short walk on the glacier as well as iceberg spotting on the boat trip over the lake or you can pair it with an Estancia local living experience for a day to see how the local gauchos (cowboys) make a living.
Horseback Riding – If horses are your thing you can even take a horseback ride through some of the walking trails with a local gaucho. They're very laid back and friendly so worth a try even if you haven't been on a horse before.
You don't just visit El Chalten for a day. You come to get away from pretty much everything. Mobile coverage is only just making inroads (and still only for voice and text). There are no discos, no shopping malls or distractions from nature. Wifi is only just making its way into some of the hotels but is as temperamental as the electricity in town. El Chalten is about as far removed from civilisation as you can get.
In this ever connected world isn't that just a little bit refreshing.
Copyright secured by Digiprove © 2017