Have you ever had the urge to travel to a far off place yet your friends tell you you're bonkers?
You find yourself in a brand new resort to last years shenanigans yet everything feels the same and you could have been to this place on any number of holidays. Your friends are having the time of their life splashing around in the hotel pool area but you find yourself lying on a sunbed reading the latest travel literature dreaming of someday kayaking up the amazon or trekking through Nepal like the great expeditionists did so many years ago.
Welcome to the package holiday resort, a staple of the British tourism sector since Thomas Cook popularised the original package holiday and Laker Airways made flight travel affordable to all. I'm not knocking package holidays. They clearly fill a need in the marketplace.
They're cheap, sometimes no frills, sometimes all the frills and gold leaf thrown in but for years there was a gap in the market that has been exploding in popularity; small group tours.
Back in the day you would need to find a specialist operator to book one of these holidays through. The large 'multiples' on British high streets didn't want to know. With the internet of today, access to operators that offer an ever growling list of far-flung exotic destinations and different ways to see something a lot more local to you are only a tap away on your phone.
Back on that sun bed, or maybe you have transferred to a lilo for a mid afternoon snooze, your body is in whatever resort your friend booked for the group but your heart is trekking the Inca Trail to Machu Picchu or maybe it's pounding with excitement in your chest as you sit nose to tail with a real lion on a Serengeti Safari adventure.
Perhaps you've always dreamed of sitting on a palm fringed beach devoid of people after a week of exploring, not sitting in a couple of square meters of beach fearful that your belongings will be snatched by opportunistic thieves the moment you look away.
You have big dreams for next years holiday but you're always cut down by the phrase, "why would you want to go there?", or, "what's the nightlife like?" I've even had someone ask me, in all seriousness, why I wanted to trek the Inca Trail because I wouldn't be able to get a burger and chips.
The package holiday was designed for exactly that type of person and after years of seeing the same-ish resorts but with different backdrops, I yearned for more. I wanted to see more of what these places had, I wanted to see where the locals went, I wanted to experience the place not just visit it.
Without knowing it I had touched on the biggest buzz word in travel this year. Experience. Have you noticed that a lot of the promotional material for holidays these days asks you to put yourself in the picture? If you have an emotional connection to something you're more likely to buy.
But how do you go about taking the first step into solo travel when you've never done anything like it before?
A google search of 'small group adventure tours' with throw up thousands of possibilities but some of the larger operators are:
If you need some travel inspiration look no further than their blogs that all do a damn fine job of inspiring people to want to travel more (and up their sales in the process).
These guys take the shock out of solo travel by organising all the boring logistics such as transfers and accommodation leaving you to make friends and enjoy your destination. You may be travelling solo but you most definitely won't be alone.
I always do a little research on my destination of choice. With the internet everywhere now there is no excuse not to get a little bit clued up. I'm all for spontaneity but you shouldn't use it as an excuse to not at least get a little road trip ready. What are some of the local customs? Where is the best place to get some money changed when you arrive? Are there any places that should be off limits at night? It's about being travel savvy when you arrive, not necessarily about taking the fun out of the unknown before you leave.
Some companies let you share a room with a fellow traveller to avoid paying the dreaded single supplement but you can pay extra to have a room to yourself but half the fun of travelling is meeting people. Not knowing who you will be sharing with for some people is the ultimate turn off for these types of tours. Why? Everyone in your group has paid a not inconsiderate amount to be on the tour so you all have at least one thing in common. Of course nothing is guaranteed but in my experience the group dynamic works very well for all sorts of personalities.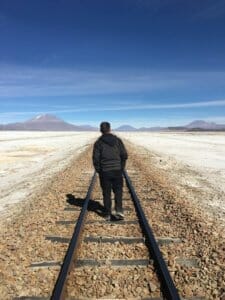 Going on these tours has given me a new-found confidence. I was a chronically shy child but I now have no problem talking to anyone. Without that confidence this blog wouldn't exist because if I hadn't taken that first step to travel freedom I wouldn't have been to half the places I have in the past 5 years. My story is far from unique. The internet is full of inspiring blogs created by people that love to share their passion of travel with the world.
I wouldn't have known how hard it would be to climb Kilimanjaro, how stunningly beautiful places like Iceland and Torres del Paine are in person not just through a TV screen. I wouldn't have stared eyeball to eyeballs with a pissed off tarantula in the Peruvian Jungle, or admired the slow determination of a sloth in Costa Rica before soaring 450ft above the jungle canopy on the Southern Hemisphere's longest and fastest zip line. I wouldn't have been helped across the road by a talking zebra in Sucre or joined working miners in the worlds deadliest mine in La Paz. My life would have been poorer without all these experiences. They have shaped me, helped me mature and I did it all with new-found friends, most of whom started out on their own solo adventure. Travel brings people together, even complete strangers.
Fear breeds fear. Don't let yours conquer you. Take the plunge and backpack yourself round the world or join one of the many small group adventure tours to a far flung destination. Once you take that first step you will wonder why it took you so long in the first place and then the world will be waiting for you one destination at a time.
Copyright secured by Digiprove © 2017